The best time of year is here and I've put together some of my must-have summer essentials guaranteed for the perfect season.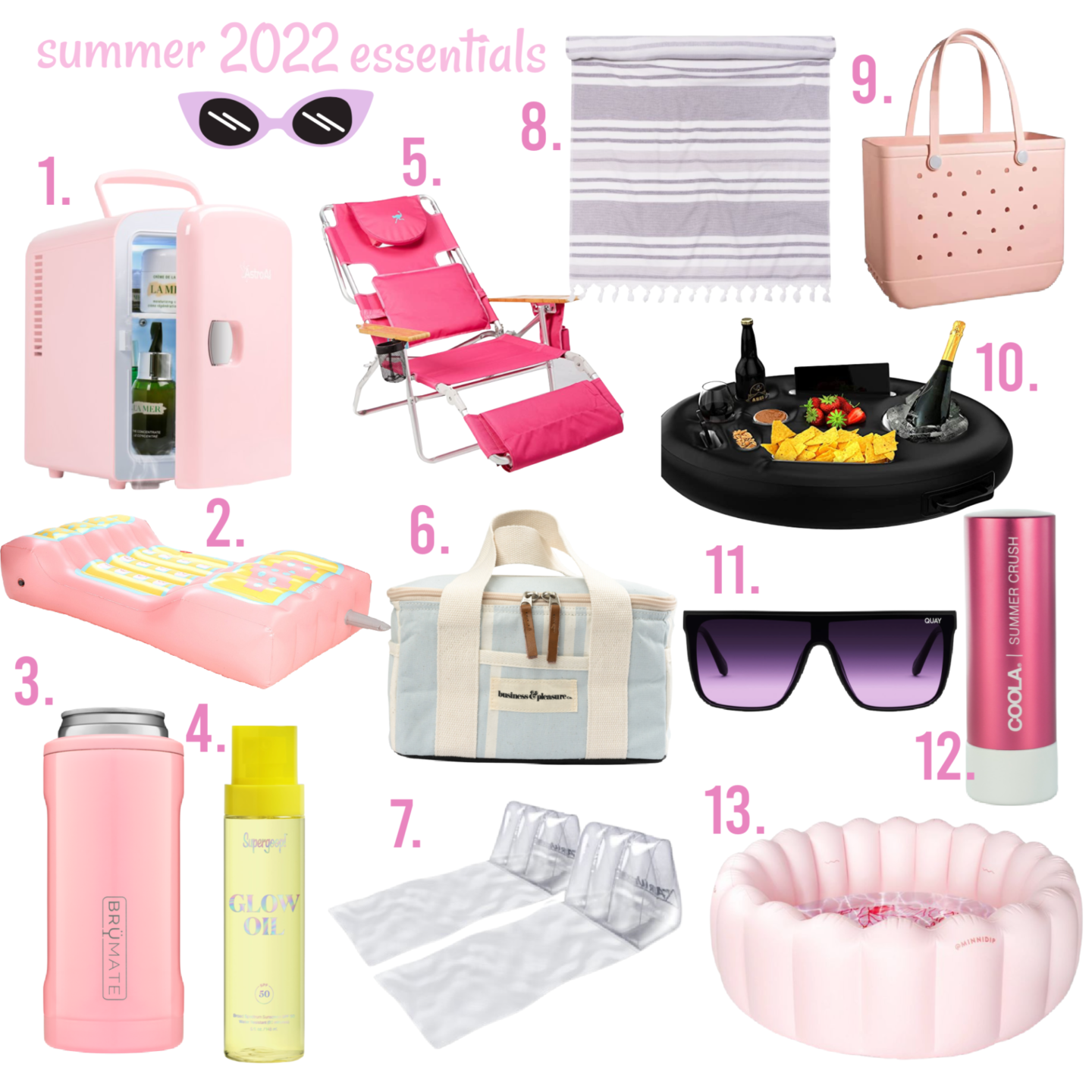 1.Mini fridge:
This is the cutest! I actually own this and use it for skincare but I love the fact that it can be used for some cold drinks on the beach as well.
2. Vintage cell pool float:
This is soooo adorable and textually super affordable compared to a lot of the others I've seen.
3. Brumate coozie:
These are an absolute must in the summer! They keep your drink ice cold for hours even in the hot sun!
4. Glow Oil:
Who doesn't love a good summer glow? Also the fact that this has SPF in it is even better.
5. Pink recliner chair:
Love the color of this and the fact it has drink holders.
6. Mini cooler:
I also have this cooler and I use it ALL of the time. It's super compact yet fits a decent amount of things and keeps everything cold.
7. Bech lounge chairs:
I love how sleek these are. They're perfect for laying out on the beach so that you don't have to lay on the sand. It's a much more comfortable option than laying on a towel.
8. Beach Towel:
Super cute and a decent size
9. Beach tote:
This is waterproof and comes in a bunch of different colors.
10. Drink holder for the pool:
I love this! Especially for a pool party.
11. Sunglasses:
This is one of my favorite brands for sunglasses. Super affordable and these particular ones come in a bunch of different colors.
12. Lip SPF:
There's nothing worse that burnt lips snd this tinted lip balm will help prevent that.
13. Pink mini pool:
This was way too adorable to not put on the list. Whether It be for your kids or you or even your pets, it's perfect for the summer months.