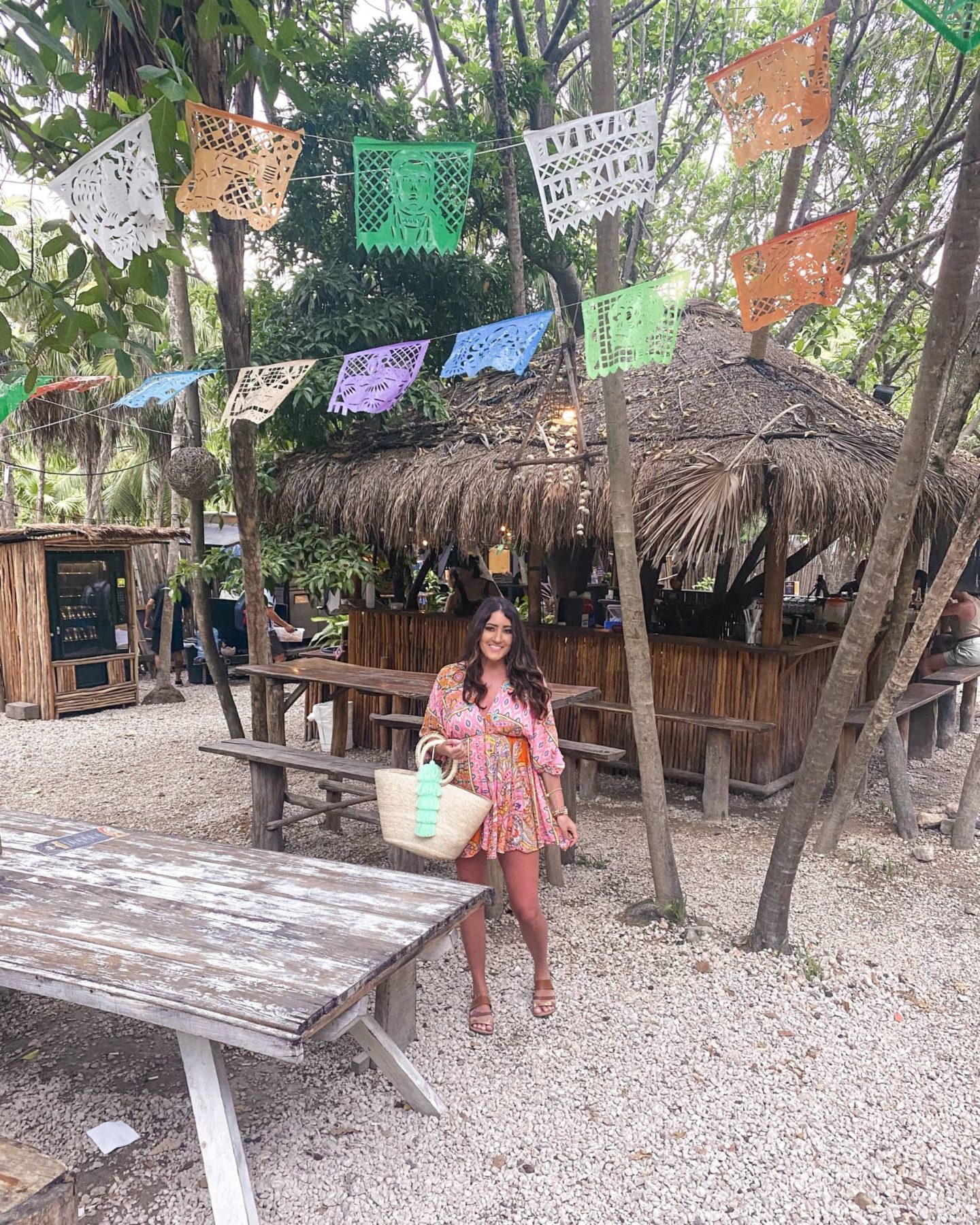 Ahh Tulum, Mexico one of 2021's hottest travel destinations right now! If you haven't already heard of this beautiful place, or have been dying to visit, either or, I've got you covered! This little beach town on Mexico's Caribbean coast has a mix of Bali and Miami vibes, while it still holds onto that authentic Mexican feel. It's a gorgeous destination that is definitely worth the hype!
Thinking about traveling here?! This is your complete travel guide to Tulum, Mexico. I'm gunna show you guys, where to stay, what to do, tips and all the best places to eat when traveling here.
What exactly is Tulum?
Located in the Mexican state of Quintana Roo about an hour and a half south of Cancun, Tulum is a growing tourist destination. It's not as built up as its neighboring tourist destinations such as Cancun, Playa Del Carmen and Riviera Maya. It has much more bohemian and authentic Mexican vibes. You won't find huge sprawling resorts and large hotel pools here. However, it's not a bad trade off considering you will have a beautiful beach, cenotes and some of the best authentic Mexican food (and all food in general,) that you've ever had in your life. After visiting Tulum it will almost be impossible to return to any other Mexico location!
When to go and how long to stay:
I recommend going February-May when the weather is absolutely perfect and you don't have to worry about hurricane season. We went in mid April and the weather was sunny and 86 every single day. We couldn't have asked for better weather. As for how many days to book your trip, I think anywhere from 10 days to 2 weeks is good. This may seem like a long time to most, however, there is so much to see and do in Tulum that it's impossible to do it all of it in just 5 days or a week. I also recommend staying in the Pueblo (downtown Tulum) as well as the hotel zone on the beach during your stay, so this will give you enough time to experience both parts of the city.
Getting to Tulum:
We're all fully aware that traveling right now is not very easy. However, traveling to Mexico is most likely one of the easiest travel destinations at the moment. With that being said, you do not need a COVID test to go into Mexico or the vaccine. The only requirement is that you need to show a negative test to enter back into the United States. As for entering back into other home countries I am not sure. The restrictions when you get into Mexico are pretty much non-existent. Well, I can only speak for Tulum actually. We were not required to wear a mask most places and everything was fully open. However, as of now a curfew of 1 am takes place. I highly suggest if you're uncomfortable with any of this at this time to not travel here, just giving you guys a heads up and an honest review. As for testing to return back into the USA, it's extremely easy, as there are covid testing tents everywhere through out the city.
Before you jet off to Tulum make sure you convert your money into pesos. It's possible to do it when you get there but it's not the most convenient, so I would highly suggest doing it before. These days Tulum is growing rapidly so they do accept credit cards, however, pesos is your best bet. I would highly suggest not using US dollars because you will lose money due to the exchange rate. It's best to be prepared with your money before traveling as well because most ATM's in Tulum are broken.
When you travel to Tulum you will have to fly into the Cancun airport and then travel about an hour and a half to Tulum. You can either take a cab service or the ado bus service (cheaper option.) We chose a cab service and I would highly recommend this if you want to travel on your own time without waiting for certain times the bus service comes, however, it is more expensive. We paid $170 USD for roundtrip. A cab service we took that I would highly recommend is AirportCab. They got us there in record time and it's like having your own personal driving service. We set up a round trip for them to pick us up on our day of departure as well and everything went super smooth. Highly recommend them!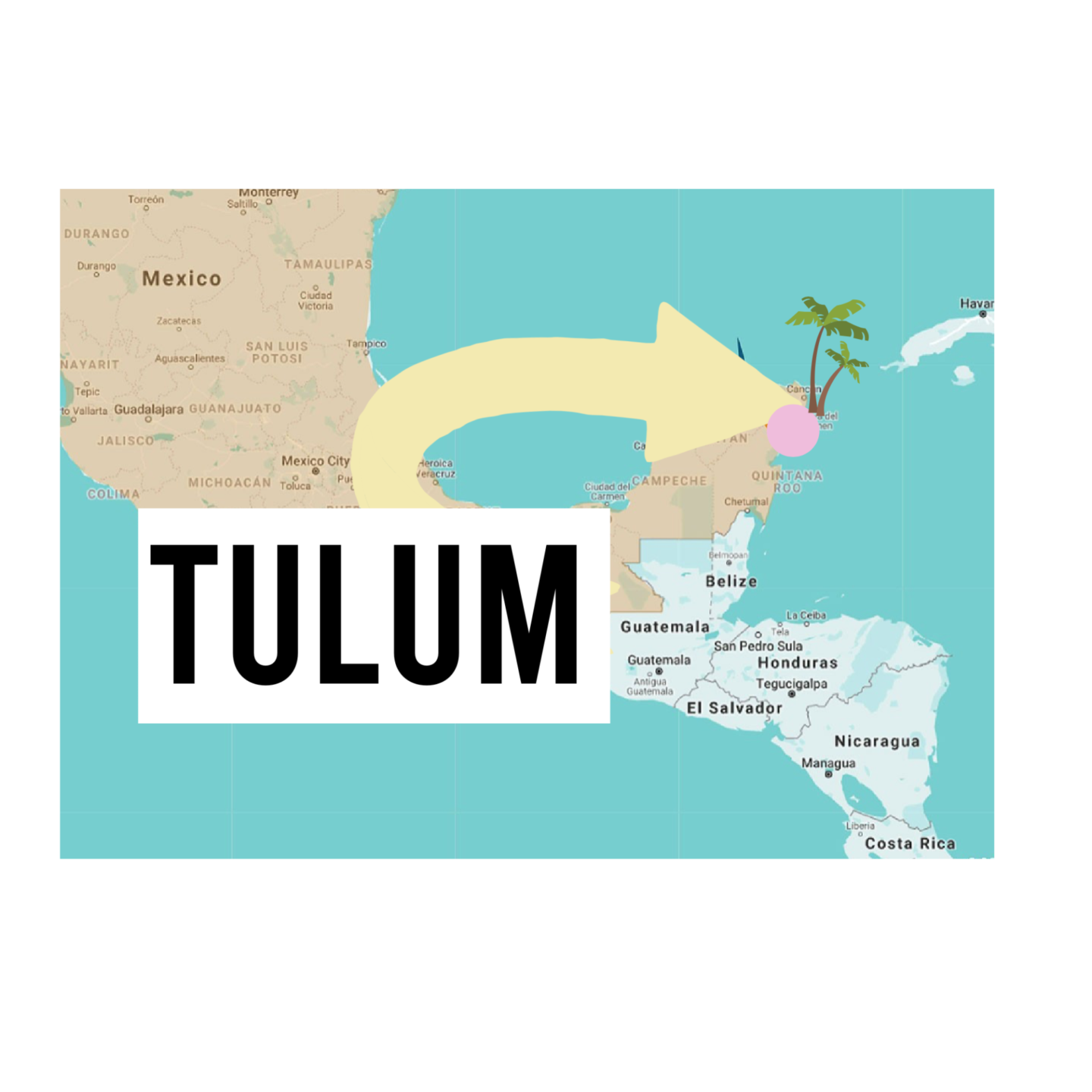 Pueblo VS Tulum beach:
During the first half of our trip we stayed in Tulum Town, also known as "The Pueblo." This part pf Tulum is much more authentic than the beach side or "hotel zone." It's where all the locals stay and it's also MUCH cheaper. I highly would advise staying in both the pueblo and Tulum Beach to experience both. We absolutely loved the town and wish we extended our stay here a bit longer. We stayed at Elements Boutique Hotel. This hotel was a super affordable price, prime location within walking distance to all restaurants and bars and also very clean and well kept. I would stay here again for sure! The town experience is such a different vibe from the beach, although you don't have the ocean and white sand you have authentic delicious street food, a good party all day and night and an amazing vibe in an authentic Mexico setting.
A few places I would recommend eating at in the pueblo is La Brasa, Burrito amor, and literally any taco truck you see… just trust me! You will not be disappointed. For a good party, Batey and the bars on top of Kibok are a great time. Honestly, any place you stumble into in the Pueblo you will have the time of your life. The vibes are immaculate and the people of Tulum make the stay worth your while. This has quickly become one of my all-time favorite travel destinations.
Tulum Beach:
After 2 1/2 days we headed off to our resort on Tulum Beach known as CoCo Tulum. This resort is one of the more popular hotels with pricing being reasonable compared to ones such as Azvulik and Papaya Playa Project. We absolutely loved our stay at CoCo. Not only was it smack dab in the middle of the hotel zone (perfect location,) the staff was amazing and our beach club was one of the better ones in my opinion. Our beach was super clean and it had a perfect mix between relaxing and fun. We booked a standard room here with a private bathroom and our little bungalow was just perfect for us. We even had a view of the ocean, which was a pleasant surprise upon arrival. Our room also had air conditioning which is not a typical thing in all hotel rooms, even at more expensive resorts. To me this is a necessity so I was so happy when I laid my eyes on the air conditioning unit. We traveled here in mid April and the weather was 87 degrees and sunny every. single. day. You need air conditioning haha.
All in all you really can't go wrong with anywhere you stay in Tulum. They're all beautiful resorts with so much to do everywhere you turn. The only places I personally would stay away from is the two all-inclusive resorts. There are only two in Tulum, these include Dreams and the Kore. Don't get me wrong these are both absolutely gorgeous resorts, however, Tulum is not the type of place for all-inclusive. The reason I say this is because there are so many things to do and so many things to explore in Tulum that there's no reason to be stuck on your resort here. When paying for all-inclusive you wanna be able to utilize that resort to the fullest, so in my opinion it's a complete waste in this location. If you are looking for that all-inclusive resort feel and just want to relax by the pool and stay at your hotel, I recommend Cancun or Playa Del Carmen over Tulum.
What to do:
There are so many things to do and see in Tulum. Literally just walking out of your hotel and walking down the street its almost impossible to not find a million fun places to pop in and have a cocktail and some delicious food. However, I am of course going to suggest some of our favorite places and things to do below. I got you, don't worry!
Mateos: Amazing sunsets on the rooftop bar overlooking the jungle and the ocean as well as 2 for one drinks during happy hour.
Playa Paraíso: a great public beach with no minimum spending and nice day beds to soak up the sun.
K'arma: an underrated club with a great vibe. This is also a bar and restaurant that's truly so much fun and a gorgeous atmosphere.
I Scream: One of the most fun places on the strip for after dinner drinks and dancing.
Papaya Playa Project: A beautiful upscale beach club with a dj and great food
SFER Museum: A lovely place to take photos and just an all-around cool place to experience.
Posada Margherita: Gorgeous grounds and great place to have a drink, eat good pizza and enjoy beach views.
Beach Clubs:
There are a ton of beach clubs on Tulum Beach. They're all super fun and have their own unique vibe, some more chill than others. For instance, if you want to party spring break style and pound some tequila, Taboo is the place for you. It gets crazy here during the day. Also, Papaya Playa project is super fun complete with a DJ. If you want a more chill, yet still enjoyable and fun time hit up Ziggy's beach club, CoCo, and Playa Paraiso. I can't speak for the others because we didn't get to experience all of them (there's a ton) but I am sure they're all worth checking out. Keep in mind that most of these clubs have a minimum entry fee that goes toward your food and drinks. This means when entering the property you will have to spend a certain amount on food and drinks once you enter. This varies depending on the beach club.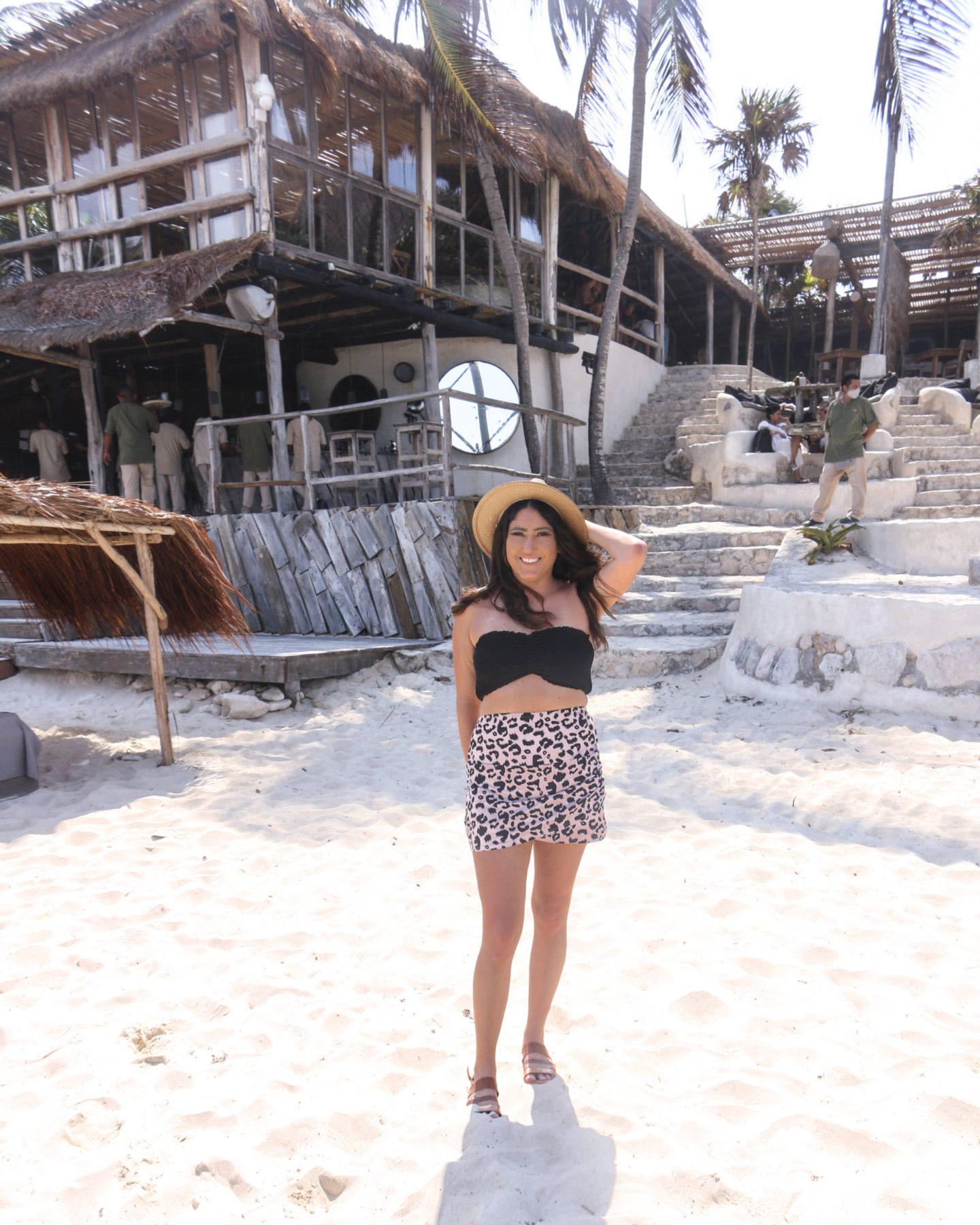 Cenotes and excursions:
Tulum is known for its gorgeous cenotes. These are natural, freshwater sinkholes in the ground and Tulum has an abundance of them. Each one has its own beauty and uniqueness to it that are all worth visiting. I wish we could have experienced them all. While we were there we visited the Grand Cenote and Cenote Calavera. Both of these are some of the more popular ones, due to the fact they're the closest. They are both about a 2 mile bike ride from Tulum Town. They all get super packed so I highly recommend you guys go when they open to avoid the large crowds and lines.
Where to eat:
Honestly I have no idea what they do in Tulum to make the food so delicious but it's absolutely amazing. I'm not just saying this but Tulum honestly had some of the best food I've ever had in my life when traveling to a foreign country. We never once had a bad meal or something that was underwhelming. You can't go wrong anywhere you eat but some of our absolute favorite places we ate are below.
Casa Banana: Great steak and beautiful atmosphere! You must try the Creme brûlée!!
Gitano: A stunning candle lit atmosphere in the middle of trees and of course amazing food.
Parole: A true hidden gem that a lot of people don't know about. The most amazing service ever and a super fun atmosphere complete with a dj and entertainment. The gnocchi is amazing here as well. Also, get an espresso martini… thank me later.
Taboo: Highly recommend eating here and experiencing this place at night. The food and service are outstanding and the vibes are super fun. The staff does their best to make sure you're having the time of your life and they do just that! I got the full lobster and my boyfriend got the whole fish, both were to die for!
MEZE: Another beautiful spot. A much more romantic vibe. Great Mediterranean food!
I cannot recommend Tulum enough. It has easily become one of my top 3 favorite places to visit… and trust me after all of the places I have been to that says a lot! It's gorgeous views, things to do, mouthwatering food and generosity of the locals makes this place truly a must visit. If you guys have any questions at all or are planning to travel to Tulum I go even more in depth about absolutely EVERYTHING you need to know when traveling here on my Youtube channel. I've created a 3 part series of information on Tulum as well as a 2 part vlog series. you can check those out here.
xoxo,
-Sélah