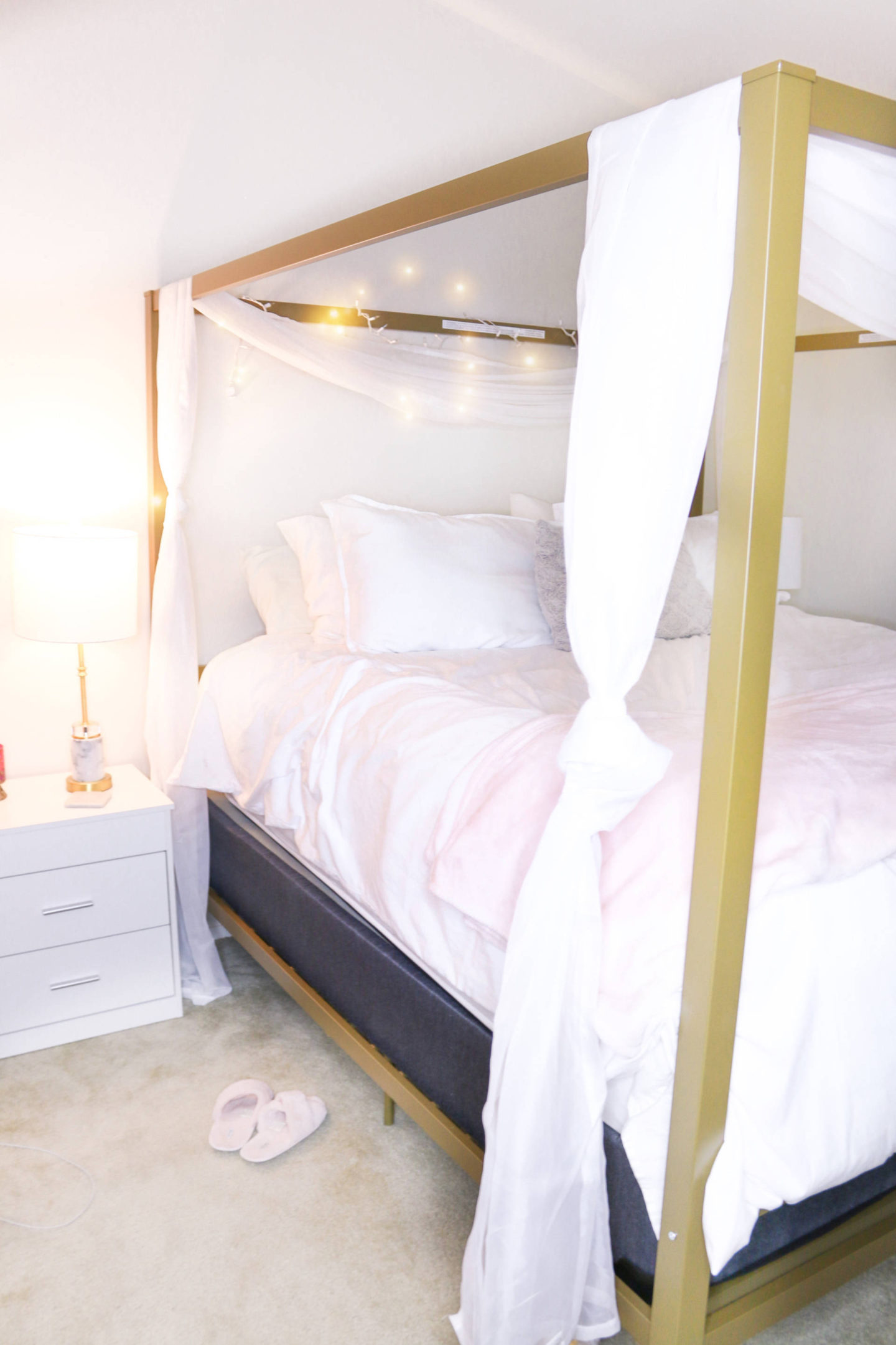 Hi loves! I'm so excited to finally reveal my new bedroom makeover brought to you by Wayfair! It's been a long time coming since I've wanted to completely redo my bedroom in my apartment. Believe it or not, it was my least favorite room in the house. I put all my energy into designing my main living space and office and saved the best for last… my bedroom! I'm so happy with the way it turned out and I've linked all the products below. As you can see by the title I got everything from Wayfair pretty much and I love everything! The shipping is usually super fast and products are good quality. The only downside is that you have to assemble each piece, but my boyfriend din't mind… I think 😉
I knew I wanted to incorporate both gold and silver into the room just like the rest of my apartment. I wanted to get rid of the gray and white room I had before and spice it up a bit and fit to more of my style. I decided to go with a gold canopy bed and I'm obsessed. It truly is the princess bed I've always wanted. It's a very large and tall bed, since we went with a king size (best decision ever) and we also added box springs under the mattress. You don't necessarily have to do this, we just wanted a very tall bed. I chose all white bedding because I want to be able to switch out my decorative pillows each season and have them go with anything. I love the duvet cover I chose it's perfect for every season. Not too hot and not too cooling.
For the end tables, I decided to go with white with silver accents. Im a perfect world I would have liked to have gold on them but it was super hard to find nightstands that were tall enough for the bed. The lamps are actually from overstock and I LOVE the marble detailing on them. They're so chic!
For finishing touches I added two sheer white canopy scarves and some Christmas lights wrapped around the top of the canopy. It really has become my dream room.
I hope you guys love it as much as me,
xoxo,
-Sélah
Shop products here: