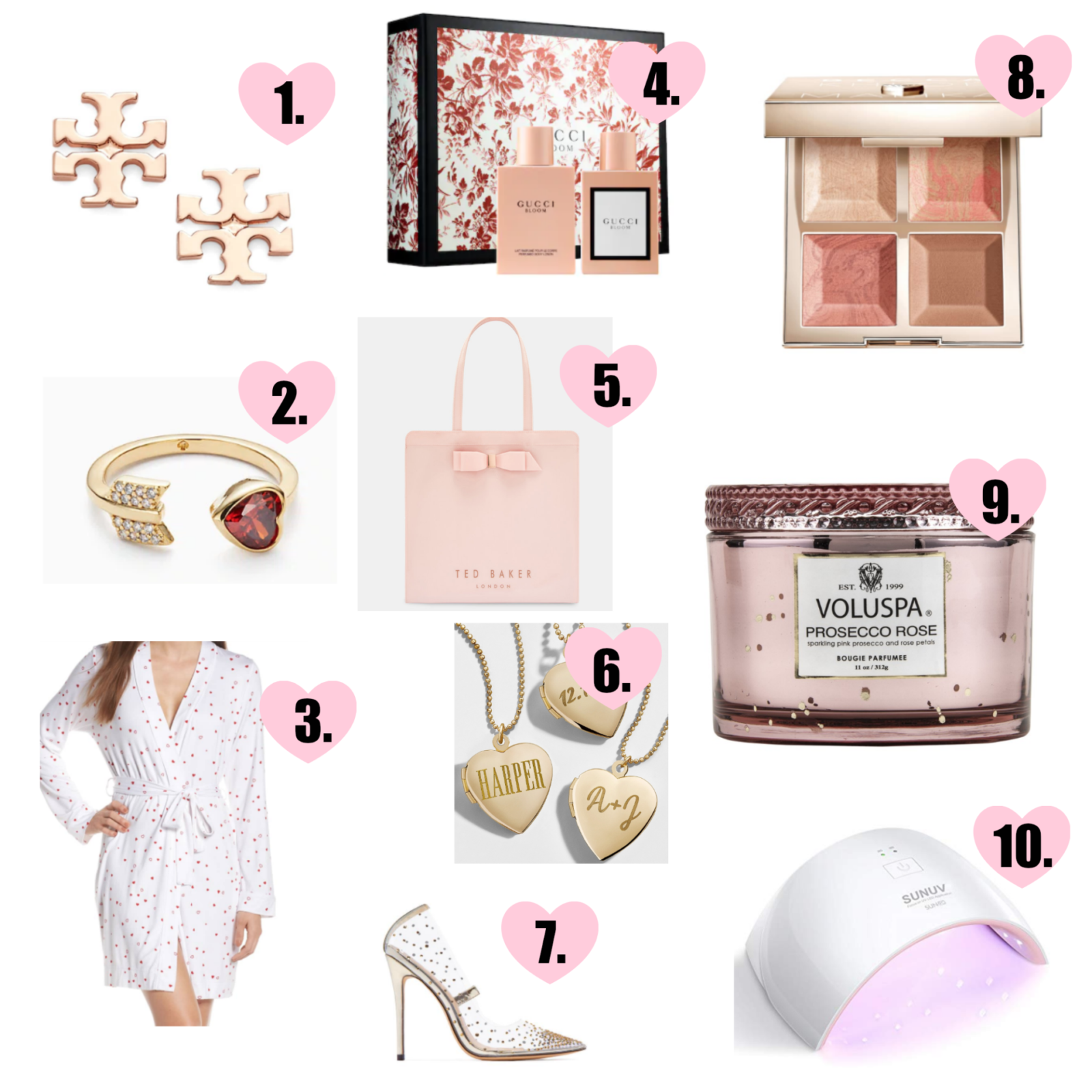 Whether you think V-Day is just a stupid Hallmark holiday or not, your girl will surly appreciate any of these gifts. Valentine's Day is always a difficult day to shop for because if you don't want to just gift your significant other with flowers in chocolate but want a little more, it can be frustrating. You want to show her how much she means to you but the gift doesn't always have to be extravagant. I've put together a list of gifts for under $100 that any girl would LOVE.
ONE|TWO|THREE|FOUR|FIVE|SIX|SEVEN|EIGHT|NINE|TEN
Tory Burch Studs: These are the perfect little designer gift for the holiday. Perfect for everyday and/or a special occasion.
Heart and Arrow Ring: I love this little ring. There's something about a ring on Valentine's day, or any jewelry for that matter that just means so much.
Robe: You can never go wrong with a cozy robe for your girl
Gucci Bloom Perfume: This perfume smells amazing!! Super fresh and floral.
Ted Baker Bag: I have this bag myself. It's the best little bag to use as either a purse or overnight bag and plus it's super trendy!
Gold Locket: These are customizable. The perfect sentimental gift for your loved one.
Diamond Studded Heels: These look very expensive and they're definitely a head-turner. Obsessed!
Becca Blush and Glow Palette: One of my favorite makeup brands. This palette is very god quality and the packaging is gorgeous. Get your girl makeup for the holiday and you will automatically have her heart.
Rosé Candle: NO girl can ever have enough candles!
At-home Shellac Machine: Perfect for any girl who enjoys getting their nails done! Now she will never have to step foot in a salon with her at-home shellac machine. Throw in some polishes and it's the perfect gift!