Located in Old Town Scottsdale, hotel Adeline is Scottsdale's #1 boutique hotel. For an astonishingly reasonable price this hotel is located right in the heart of town with walking distance to tons of bars and restaurants. Its unique decor and style is what really caught my eye when booking. I loved the fun colors and aesthetic of the resort (perfect for any influencer or blogger like myself to get some good photos.) It fits right in to the entire vibe of the city.
If you're not concerned about the aesthetic and just want an all around great hotel with prime location and a good time, then this hotel is for you! I would definitely recommend staying here and I am already planning my return in the near future.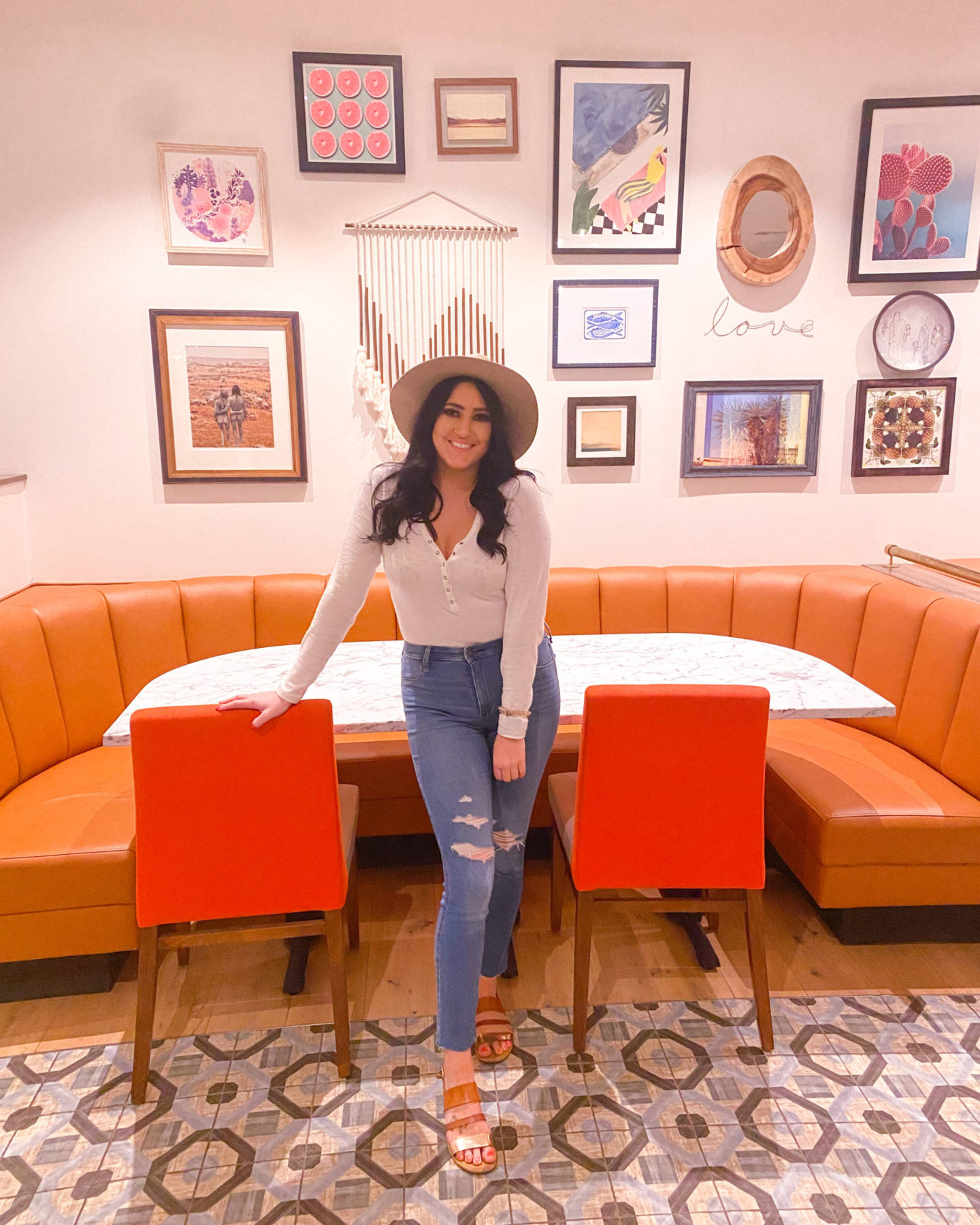 Staff:
We had such an easy and pleasant experience from the moment we checked in to the moment we checked out. The staff is super helpful and I cannot say enough good things about how nice they were to us. Some of the bartenders and staff became friends within just a couple of days. From the second we walked into the hotel we were granted the opportunity to check in 3 hours early and led to our rooms overlooking the gorgeous pool.
Rooms:
The rooms were not anything spectacular but for the price and what the hotel has to offer I would still recommend. I do want to mention, however, they were also very clean. The resort style of the Adeline is almost as if it used to be a basic motel but was completely transformed into a unique and new resort.
Dining:
There are two places to eat at hotel Adeline. The pool bar "freestyle" and the indoor/ outdoor restaurant "self-made." The drinks and food were delicious. Highly recommend the arancini balls! The restaurants are not fine dining, more so above average bar food, perfect for a quick yummy bite after a day at the pool.
Pool and Amenities:
The resort also offers cabanas by the pool and an awesome set up if you want to have some fun in the sun. I do want to mention that come spring break time this hotel also hosts Vegas-style pool parties complete with a DJ. I can't wait to return and experience it because the set up at the Adeline is perfect for this scene.
Other amenities include a spacious gym with tons of equipment and a golf cart taxi service that picks you up and takes you around the city Uber style. It was super convenient.
All in all, if you're looking for a fairly priced stay in the heart of the city with an awesome staff. Hotel Adeline is for you!