Looking back to when I first started my Youtube channel and website I could die laughing at how little I knew about the whole thing. I wish I had someone to just show me the way and walk me through it all, however that wasn't the case. I completely learned everything on my own and gained more experience and knowledge as I went along through the years. There is still so much more to learn in the world of blogging and having my own Youtube channel but I think I've come pretty far.
I decided to put together a "starter kit" for those of you thinking about starting or who have just begun a blog or Youtube channel. Although these aren't the most expensive and high-tech things, they are definitely perfect basics that you will need to gain a decent following and start off in the right direction! I hope this helps 🙂
xoxo,
-Sélah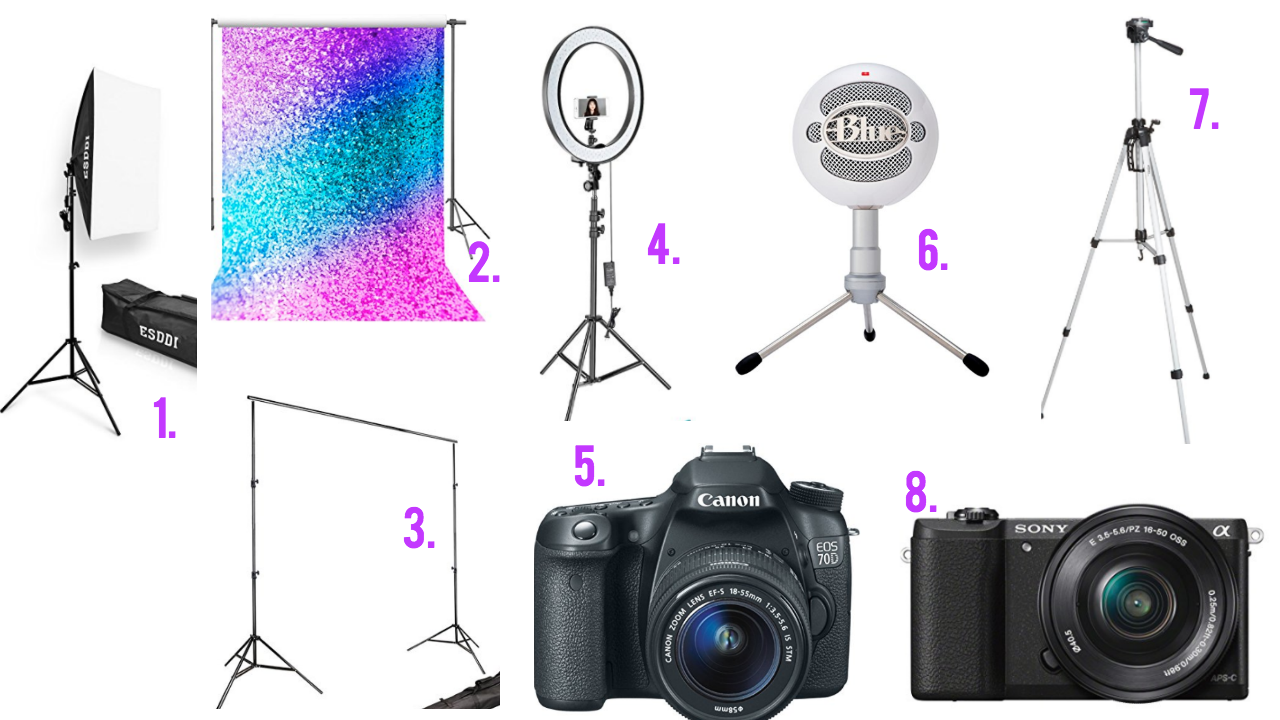 Lighting:
Lighting is probably one of the most important things to take both good photos and video. Good quality content is what is going to keep your viewers interested and grow your following. Of course, you can use natural sunlight but you don't always have that option. All you need for basic professional lighting is a ring light and two soft box lights and you're good to go. I've linked both my exact ring light and box light down below and they're super inexpensive and last such a long time!
Click here to purchase box lights
Click here to purchase the ring light
Sound:
This tiny little thing is a must for recording voiceovers. Of course there is better audio out there but again this is a beginners guide and to be honest, the snowball ice is amazing for the price. It not only works and sounds great but it's super compact and fits perfectly on your desk.
Click here to purchase the snowball mic
Appearance: 
Let's start off with the appearance of your photos and or videos. A fun and colorful backdrop is a must regardless if you're filing makeup tutorials or just want a couple shots for your blog. You can always change out your backdrop to fit different looks and they're so easy to change out and really inexpensive. I've linked one below that I though was super fun!
Aside from background, I would say  the most important thing besides lighting is your camera(s.) I use the Sony a5100 for blog photos and vlogging and I LOVE IT! It's amazing quality and a very decent price. It takes beautiful photos and is the perfect size for travel as well. It even has a flip up screen so you can see what you're taking photos and video of. My main camera is probably the most expensive thing on this list but it is sooo worth it! I use the Canon eos 70d for filming my youtube videos and I would highly recommend it. It's improved the quality of my videos tremendously and I am so happy I made the purchase. Of course, if you're just starting off and don't want to purchase both cameras, I would say go with the Sony because it's cheaper and still good for filming and photos.
Click here to purchase the Canon eos 70d
Click here to purchase backdrop
Click here to purchase the Sony a5100
Equipment:
For your background you will need a good backdrop holder and some clamps to make sure the backdrop stays in place. I've linked below a complete starter kit that I think is perfect for beginners. Also, make sure you get a good tripod for filming and photos. I made the mistake of getting one that was very low quality and wobbly and I ended up dropping my camera dozens of times! Not good. I linked an Amazon best seller down below and I think this one is perfect.
Click here to purchase camera tripod
Click here to purchase back drop stand