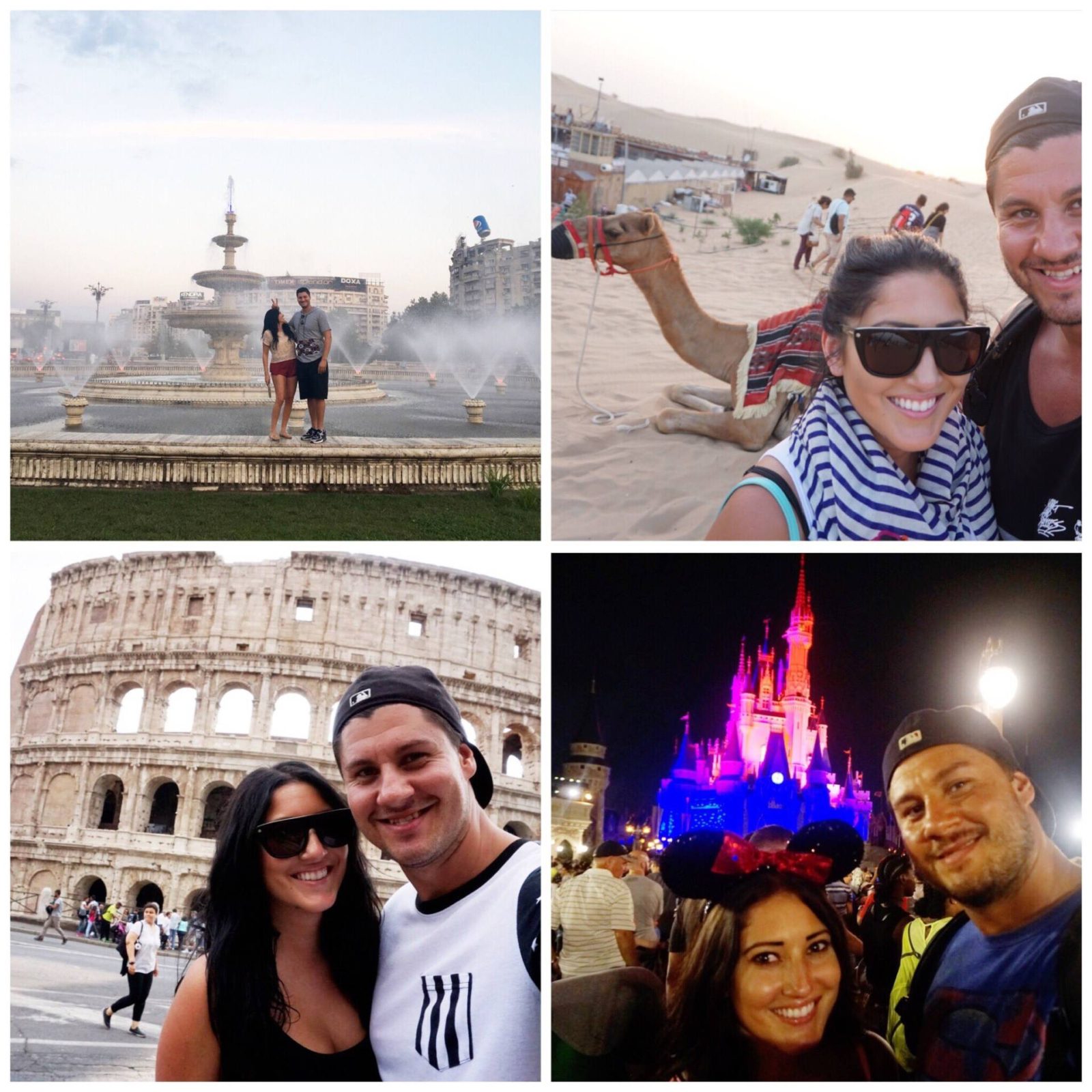 So, as all of you who follow me on social media or for those of you who know me in real life pretty much know, I travel about every other month, or at least I try to. I think it's become more of an addiction rather than a hobby to be honest. Over the past four years I've been determined to hop on a plane as many times, and to as many places as possible. Since I've been about 18 that's exactly what I've done! I'm truly blessed to be able to see and do the things I have. From traveling to many tropical islands in the Caribbean, to exploring Europe for six weeks I have made memories I will never forget. Anyone can travel the world at a young age, not just me. You just have to want it bad enough and set your mind to it. I'm not saying it's easy, but that's why I've put together some tips for you guys so you can be the jet setter you've always dreamed of being 🙂 I am constantly asked how I am able to travel as much as I do so I decided to put this post together for everyone! I hope this inspires you all and is a great help to go out and do the things you've always wanted <3
Make it a PRIORITY:
If you truly want to travel and you want it bad enough, you will make it happen. Of course, this is way easier said than done, but it's true. One thing I try to do is whenever an opportunity arrises, take it. If a friend asks you to go out of town for his or her birthday, go! If you found a cheap flight online and it sounds like a good idea… don't hesitate, go! If you saw an episode of an amazing tropical island on the travel channel, text some friends, look up the place online and try your best to set something up. You cannot make excuses if you want to travel and that is one of the easiest things to do, and one of the biggest reasons people do not end up traveling much in their lifetime. Not having enough money, work, not having anyone to go with, or not knowing how to book a trip and fear of planes are ALL common excuses I hear when talking to people about travel.
Going off of the list of excuses I just named, let's start with the money issue. Of course, this is a valid excuse as to why one may not be able to travel, however, it is not impossible to get the money to travel. I will talk more about this down below on ways to be smart with your money. Also, work is a huge issue for people a lot of times. I am lucky enough to have a very flexible work schedule and I'm able to travel very often. If this is not the case for you, utilize your vacation times and weekends off. Make sure everything is planned in advance, so that way when it comes down to your vacation time you will be all set and ready to go. If you can only get weekends off, take a weekend trip somewhere. Vegas is a great place to go for the weekend because anything longer than that is too much (in my opinion.) Also, somewhere only a few hours away is a good idea. Take a road trip! Traveling doesn't always have to mean going across the world, but just simply seeing other places outside of your ordinary comfort zone. This way, you will be able to travel and also be back to the office by Monday. It's a win, win! Another common excuse is not having anyone to go with. Although, traveling with someone else or a group may be much more fun, you can still travel. The only person you really need is yourself. Don't be afraid to hop on a plane alone and explore. Just make sure you know exactly what to do and where you are headed before you go. Have a plan! Traveling by yourself can be scary, but if you have everything mapped out and ready, you will be ready to conquer your solo vacay. This is also a great way to meat new people because you don't have the comfort of having someone with you, which will force you to socialize (at least this is what happens with me.) Go to a local bar, go to the beach and relax and get some alone time, or just go shopping in the area you ended up in. There are many pros when it comes to traveling alone! Next, not knowing how to book a trip is a common excuse I hear that I think is so silly. If you don't know what you're doing when it comes to planning a trip and you're afraid you will mess it up and end up in the wrong place, or not know what to do when you get there, ask someone for help and do your research!! Yes, you can always use a travel agency, however, I have never gone through one so I can't exactly say I know much about them. My advice would be to talk to people you know. Post a status on Facebook and ask advice about a place you're thinking of traveling to. I do this a lot, you would be surprised at all of the responses and advice you will get. If you don't have Facebook, reviews will be your best friend. TripAdvisor is amazing for this. These reviews have helped me out so much on past vacations. Make sure to look into this. Lastly, the fear of flying is an issue for a lot of people. I can't tell you to not be afraid of flying if you are, however, I can tell you that in order to travel to some of the most beautiful places in the world you will need to at least try to get over your fears. You don't have to like planes, but just set your mind to how beautiful the destination will be if you face your fear and get on the plane. I know this may seem impossible for some of you, but try and focus on yourself. Read a good book, put on your favorite song, watch a movie, do anything to take your mind off of flying. Trust me, once you get to the destination you will be so happy you did it. What helps me when flying is realizing that everything happens for a reason. Did you know that you are more likely to die in a car crash than a plane crash? I think of this when flying because I get into a car everyday, so why not a plane? I too am afraid of flying, but after being on one countless times I have overcome my fear. I do not let the fear of flying stop me from seeing the world and neither should you <3
Be Smart with your money:
Something that I find helps a lot is putting money aside to where you can't touch it. What I mean by this is every time you work or receive a paycheck take a little bit of money out and put it aside. I do this every night that I work (I get paid cash every night since I'm a waitress.) Each night I take a portion of money I made and put is aside in a little box and pretend that the money doesn't exist. Train your mind like this is a savings account and do.not.touch.it! You cannot cave in. "Oh I really want these shoes online, I'll just take out the money from the box and put the same amount back in next week." This is an example of what NOT to do. If you start taking money out of the box, even just once, it will happen again, and again and become a habit. If you leave the money alone time will go by and you will eventually have enough to pay for your upcoming trip without having to dish out a crazy chunk of change all at once when it comes down to paying. Another option, which I am guilty of doing too, is to put the money on your credit card and book spontaneous trips. This is my specialty. However, the only reason that I do this is because I know I will be able to pay off the card within a short period of time, therefore I do not rack up credit card debt. Know when to use your card for a vacation. If you don't want to miss out on a good deal or don't want a room to be sold out, etc. put it on your card, but only if you will have the money shortly not if you simply just don't have money and still want to go. This is what I mean by being smart with your money. If you're going the route of using a credit card I suggest getting a travel rewards card or sky miles card. These kind of cards will give you plenty of rewards and are truly beneficial, especially if you travel a lot or plan on doing so. I use the Delta Sky Miles by American Express and I would highly recommend this.
If you flat out just don't have the money right now to travel, don't sweat it. this isn't the only year you will be young. You have time. You just have to SAVE. Save your money like crazy for a trip next year. However, you must start NOW. Don't keep putting off saving the money for a trip because it isn't until next year. Trust me, time will go by fast and you don't want another year to go by where you don't get to explore. The time is now 🙂
Smart Booking (Flights, hotels, etc.) :
When it comes to booking a trip you have to weigh out all of your options. You must know when to stay in an air b n b or a hotel, what days to travel on, when to book flights, what hotels are the best, etc.
Tip #1: When it comes to places such as Mexico or places in the Caribbean I would recommend staying at an all inclusive resort, if the place you're planning on traveling to offers it. An all inclusive resort will be your best bet, because for a decent price you will have all of your alcohol and food included, which saves you a ton of money. In my experience these resorts are the way to go! I have stayed at one of these resorts in Punta Cana, Jamaica and Mexico and loved it every single time. You can't beat an all inclusive deal for the price. On the other hand an Air bnb is good when traveling to places such as Europe and or any big cities. Places such as NYC and L.A I would highly recommend staying in an air bnb over a hotel because hotels in large cities such as these not only cost a fortune, but the rooms are also VERY tiny. Air bnb's are much cheaper than hotels and are your best bet, especially when traveling around Europe. When traveling over seas you're usually staying in more than one country and have to book multiple places to sleep. Therefore, you will want to save money. Also, with Air bnb you get a really good feel of the culture when staying in them because most of them are located in the heart of the city or where the locals live.
Tip #2: Knowing the best companies to go through is a very important thing to know when taking it upon yourself to book your vacation. When booking a vacation in either Mexico, the Caribbean or any other place around this area, I would highly recommend using Cheap Caribbean. Not only is it super cheap, but this site has tons of helpful reviews, and perfectly sets up your trip for you. Traveling out of country can be really nerve wracking, but with this site it takes you step-by-step through the entire process. It first starts off with flight and hotel, then lets you book your airport transportation (extremely necessary in another country because it is the safest way,)  and also takes you through your options of any excursions you may want to do while in the foreign country. This way, you will have everything set up before you go and there will be no confusion or concerns upon arrival. Each time I have went through this site and booked through Cheap Caribbean I have never been disappointed. It's extremely easy to use and navigate around the site and everything has always worked out. When booking the airport transportation I was always greeted at the airport with a sign allowing me to know that the car service I booked through the site is waiting for me. It was comforting and took away that fear of not knowing how to communicate or get to my hotel.
Also, as I've talked about before Trip Advisor is a great company to go through in search of reviews. Another company I would highly recommend is Expedia. Similar to Cheap Caribbean, this site helps you easily set up your vacation step-by-step.
Tip #3: Knowing when and what companies to go through when it comes to booking your flight is equally as important as the hotel portion of the booking process. I would suggest booking your flights either on Tuesday's ( I don't know why it's usually cheaper these days,) or booking your flight in the middle of the night. Me and my boyfriend have found that in the middle of the night prices go down on sites because the companies know not many people are searching the web and trying to book a vacation at 3-5 in the morning. Weird, but that's how it works. Also, traveling during the week is usually going to be much cheaper than traveling during the weekend because that is when most people have the desire to travel. So sometimes you may have to take the crapier flights in order to save a couple hundred. It's up to you whether or not it's worth it. Make sure you check out all of your options of flight companies and compare. Do not just book the first decently priced flight you see. Another thing I find that helps to do is comparing flight departures based on the city. For example, when traveling to Europe in September it was $1,000 cheaper to take the train from Detroit to Chicago and fly out of Chi-Town than it was to fly out of Detroit. Again, sometimes you have to compromise.
I hope all of these tips and tricks make your traveling experience much less stressful and that each person who read this post feels inspired or learned something. If you have any questions at all please feel free to leave them down in the comments below and I will 100% make sure I reply. I want to inspire you all to get out there and see the world. There is so much more to see than the town you grew up in I promise. <3
xoxo,
-Sélah